GLOBAL EQUINE ACADEMY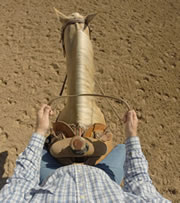 Click to watch a unique training video

At GEA you can:
Earn a Certified Equine Specialist Certificate
Earn an Equine Management Certificate
or
Simply Learn more about your equine friend
Gene and Sandy Miller can help you reach your equine dreams. At Global Equine Academy we will give you the practical and technical equine knowledge to be successful in the equine field of your choice. Get one of our proven certificates or just learn how to take care of your equine friend like an equine professional. Become a student from your home or just become a lifelong learner.
There are several ways to take classes:
Certified Equine Specialist- for those that want to work directly with horses daily (See the Specialist Page)
Certified Equine Manager- for those that want to work in the industry but not ride horses for a living(See the Specialist Page)
Learn to take care of your equine friend- Just take the classes that interest you. (See the Specialist page)
College degrees are getting expensive- save some money by getting a certificate in equine management from GEA.
Then get a business degree from a local college and be set to live your dream and to be successful in the equine industry for a lot less money.
Global Equine Academy has been offering online horse classes since 2001 and has many successful equine management students all over the world. Many of our graduates have started their own successful equine businesses, while others have gotten equine management jobs and are finally able to fulfill their life long dream. We have a proven track record that our method of teaching classes works, and we are here to help you meet your goals from the first class to the development of your equine business or equine job. The horse world offers a wide variety of careers and distance learning holds the key for those presently with full times jobs and other responsibilities that make it difficult to relocate to a college campus. Please reference our Equine Careers page for a sampling of equine career opportunities available to you. We are always available to discuss these opportunities and help you make your equine career choice.
The format for Global Equine Academy is a whole new theory for equine education and distance learning. The online equine education classes, such as equine marketing, equine business, equine management, equine nutrition, equine anatomy, equine health/diseases and equine reproduction will be taught by the most modern distance learning methods totally online. The equine training courses will use lecture notes, college level equine text books and a video to demonstrate the lesson. Horse education students will practice the lesson on their horse and send us a video of them performing the exercise described in the lesson. Gene and Sandy will evaluate the video and give suggestions for improvement and a grade on the lesson. Lecture equine classes are a combination of lecture notes, college text books and online tests with the final being a proctored final. We have done everything possible to make the classes as much like a college classroom as possible and have done our best to include along with the technical information the practical experience we have gained over the past 30 years of training and marketing horses.
We have had a lot inquires about farrier classes and farrier certification, so we added a new horse shoeing class. We continually hear the same thing from horse people all over the world, "we can't find a good horse shoer". To help our students out as much as we can we have added a 5-day hands-on shoeing class or farrier school. It is a totally hands on class where students shoe horses every day, shoeing their first horse on the first day of class. Even if you don't want to shoe for a business this class will show you how to balance a horses feet correctly, so you can work with your farrier.
GEA tries hard to offer the horse courses online which you will need to be successful in the horse industry. We are going to be offering 3 new horse classes online soon, the new horse classes will be Techniques of Training III and IV and Physiology of Conditioning. The demand for horse training classes and horse training information is much needed in the horse industry and we are trying hard to fulfill that need with ACCREDITED COLLEGE HORSE CLASSES. Global Equine Academy has the most functional and practical equine classes online offered in the world, today. We are truly EDUCATING THE HORSE WORLD ONE CLASS AT A TIME.
INSTRUCTORS-
Professional- Nationally Known Trainers -(50 years combined training)
Past University Professors
Certified Teachers
Rare Combination of Training Experience and College Degrees
Past students have been successful in many fields of the equine industry, such things as, therapeutic management, horse businesses, horse management, professional horse training both English and Western, horse rehabilitation, horse rescue management, the first horse, horse marketing, equine business management, recreational riding, equine entrapuanurship, horse nutrition, horse management, stable management, horse shoeing, farrier, tack manufacturing, tack sales, competing and showing in many different disciplines, facility managers, and beginning horse ownership.
GLOBAL EQUINE ACADEMY OFFERS-
An equine college that is affordable

Equine education online

Equine studies to be successful

Online Equine Associate degree

Horse education for everyone

Horse training courses for the real world

Horse school for the dedicated horseman

Horse Care Classes

Help for New Horse Owners

Horse Classes for High School Students

Horse Education

Online Horse Courses

Horse Nutrition

Equine Courses

Horse Shoeing School offering Farrier Certificate

Certified hands-on Farrier School

Global Equine Academy is taking horse management into a new era

Horse School

Financial Assistance for Equine Classes/Certificate
Get a Certificate in Equine Management at Global Equine Academy through the U.S. Department of Labor. The Employment Training Administration is offering the TAA program which stands for Trade Adjustment Assistance. They will pay the tuition, fees and books for people that have lost their job or have had a cut in hours of their job to train you for a new occupation.
Go to http://www.doleta.gov/tradeact/DownloadPetitions.cfm or you can contact your state workforce program coordinator, or contact Gene or Sandy at globalequine@aol.com

CLASSES START August 25, 2014
Limited enrollment - Enroll now to reserve a spot